What are dental implants?
Dental implants are structures similar to cylinders made of Titanium nº5, which are placed in the mandibular or maxillary bone, which do not generate any type of known allergy and are used so that once they are osseointegrated (attached to the bone) the future teeth can be placed on them.
For whom is dental implant treatment indicated?
Implants are indicated for those patients who have lost teeth due to different circumstances, such as caries, dental fractures, trauma or periodontal disease, in order to place new teeth on them.
What are the benefits of this treatment?
By placing dental implants we can return to the patient a function and aesthetics as they had before the loss of their teeth or even improve it. A dental implant avoids having to cut healthy teeth and can rehabilitate the patient with fixed teeth without the need for a removable or removable prosthesis. Today these implant treatments allow the placement of teeth at the same time of implant placement without having to wait between 4 and 6 months as it was done in the past.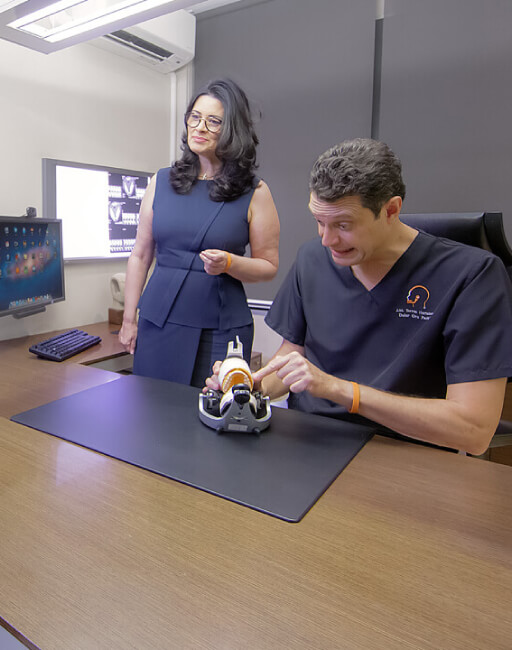 What is the duration of treatment?
As we have just explained, technological advances and new techniques make it possible to place the teeth at the same time as the implant treatment is being carried out, without having to wait 4 to 6 months as in the past.
How many days will I be inactive after dental implants?
Depending on the treatment to be performed, the time off work varies from an immediate recovery, i.e. the patient would return to normal activity the following day, to a few days that do not exceed one week.

Is a tooth implant a painful treatment?
The treatment in CLÍNIC KRANION Alicante is painless, since our protocols include conscious intravenous sedation that eliminates pain and anxiety to our patients.
Are there any contraindications to this implant treatment?
Implants have a success rate higher than 98% but there are factors to take into account such as periodontal disease that requires treatment and maintenance prior to implant placement or smoking that decreases the success rate among others. There are absolute contraindications for implant placement such as immuodepressed patients, uncontrolled endocrine and coagulation disorders, bone metabolism disorders such as osteogenesis imperfecta or osteomalacia (osteoporosis is not a contraindication) and rheumatoid arthritis.
If you are considering dental implant treatment in the city of Alicante, but you still have doubts, please contact us so that we can clarify them and explain the whole procedure in detail.